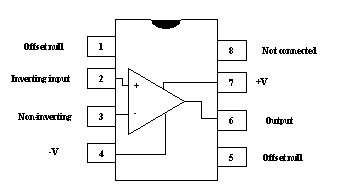 TL071
Low-Noise JFet-input Operational Amplifier
Other names for this product: TL 071,
Courtesy/Thanks to:
Description: The JFET-input operational amplifiers in the TL07_ series are designed as low-noise versions of the TL08_

series amplifiers with low input bias and offset currents and fast slew rate. The low harmonic distortion and low

noise make the TL07_ series ideally suited for high-fidelity and audio preamplifier applications. Each amplifier

features JFET inputs (for high input impedance) coupled with bipolar output stages integrated on a single

monolithic chip.

The C-suffix devices are characterized for operation from 0°C to 70°C. The I-suffix devices are characterized

for operation from –40°C to 85°C. The M-suffix devices are characterized for operation over the full military

temperature range of –55°C to 125°C.
Comments
You need to be logged in to add a comment.
Added 2012-03-07 10:31:46 by dave
Important note: The file tl071.gif does not have the right pinout. Please use the tl071.png !