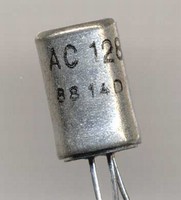 AC128
Germanium Transistor
Courtesy/Thanks to:
Description: Besides being in the famous original Fuzz Face, the AC128 was used in numerous
domestic electronic appliance, and certainly one of the most common European
transistor. This explains why it is still possible to find nice new-old-stock of
these jewels.

Ge PNP 16V 1A 1W

Comments
You need to be logged in to add a comment.