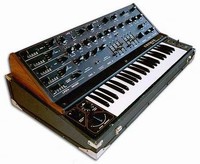 DS-2
Digital Synthesizer
Courtesy/Thanks to: Crumar
Description: Short info from vintagesynth.com:
The DS-2 is basically a monosynth with an added 44-voice polyphonic strings section. The DS-2 was one of the first synthesizers to use DCOs (digitally controlled osc.) making it stable in tune but maybe not as fat as VCO synthesizers. That isn't to say it can't sound fat...it can. Especially if you use the polyphonic string section and apply some slow LFO modulation to the pitch. This is a very big and good looking synth with a lot of knobs for instant hands-on control. And you don't need a hardcase, it's built into one. Just lift the cover and there it is (smart!).
Comments
You need to be logged in to add a comment.