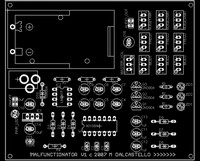 !Malfunctionator
Modulated Logic Oscillator PCB
Courtesy/Thanks to: Somatic Circuits .
Description: Three logic oscillators modulated with 3 LFOs. Based around the logic hex schemidt trigger inverter - 40106. Easy to build with Rich and Powerful sonic textures, with plenty of room for mods. Modification required for it to be controlled by voltage , although it is perfect as a textural tone source. Kit no longer available - but version 2 is planed somaticcircuits.com
Comments
You need to be logged in to add a comment.