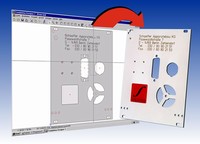 Front Panel Designer
A program to design Frontpanels, that Schaeffer then can manufacture in small series for you.
Courtesy/Thanks to: Schaeffer Apparatebau KG
Description: New version 3.0

The Idea of the Front Panel Designer
Front panels are an important component in the world of electronics. To manufacture small production runs, the process of manual drills and files followed by labels using adhesive letters is used. The reasoning for these outdated procedures are the relatively high costs of alternative processes for small run manufacturing and prototyping.

The most efficient alternative method to handcrafting front panels is the operation of CNC-milling & engraving machines. These systems offer options of specific types of drilling with counter sinking, tapping and thru-holes. You can also efficiently engrave text and graphics. The cost of fabricating a front panel is actually quite reasonable because of the relatively high speed of the milling machines involved. The real cost factor lies in the programming of the CNC-milling & engraving machines. Specific knowledge of the machine and milling techniques are required. Only in rare cases is the engineer requiring the front panel, able to perform the programming task himself. This is where the Front Panel Designer helps you out.

The Front Panel Designer is a program, which enables anyone to design front panels with very little effort. The milling service can convert the files created with the Front Panel Designer into CNC programs and import them directly to the CNC milling & engraving machine. This makes the Front Panel Designer the most efficient tool for professional looking, cost effective front panels.

The Front Panel Designer is free of charge, as long as the panels are going to be manufactured by us. The costs for manufacturing the panels can be calculated by the Front Panel Designer.

Comments
You need to be logged in to add a comment.