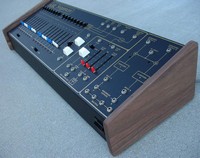 Sequencer Model 1601
Arp Sequencer 1601
Courtesy/Thanks to: ARP
Description: The ARP Sequencer, model 1601, is a 16 step sequential voltage generator. A voltage level slider is provided for each of the 16 steps to adjust the vlotage output from 0 to +10 volts. The sequencer may be used in a "8x2" mode so that outputs 1 through 8 (bank A) and 9 through 16 (bank B) sequence in parallel. The Outputs of banks A and B are previred to a voltage quantizer which effectively "rounds off" the sequenceers coltage to the nearest whole twelfth of a volt. This allows precise tuning since all ARP products are tuned to a 1 volt per octave standard (1/2 volt per semitone).

A low frequency voltage controlled clock governs the stepping speed of the sequencer and can be started, stopped, gated, or speeded up either manually or externally.

Position gates provide a constant voltage output (+10 volts) for as long as the sequencer is on a selected position. The position gate outputs are bused to one of the position gate outputs (Gate 1,2 or 3).

Comments
You need to be logged in to add a comment.