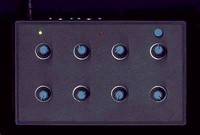 ReTurn
Programmable MIDI Controller
Courtesy/Thanks to: Thomas Brandl
Description: The ReTurn MIDI Controller can be used to control any MIDI device that responds to MIDI control events in real time (like synthesizers, samplers, software synthesizers etc).
The output of each of its eight potentiometers can be configured individually. The bandwidth of MIDI commands the ReTurn device can generate ranges from simple controller events to NRPN/RPN and SysEx strings with various additional functions.
Since the ReTurn device does not provide any user interface like display, push-buttons etc, special Windows and DOS-based setup editors exist which serve as remote user interface. They communicate with the ReTurn device in a proprietary SysEx format either directly via MIDI or indirectly via standard MIDI File.
There are no ready-made ReTurn units available. The only way to get a ReTurn device is to build one yourself.
Comments
You need to be logged in to add a comment.