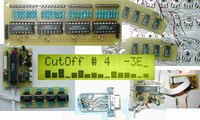 MBHP
The MIDIbox Hardware Platform
Courtesy/Thanks to: Thorsten Close
Description: From the site:
The MIDIbox Hardware Platform is the consequential continuation of Thorsten's work on MIDI controllers in the last years. It brings down every design to one standardized environment with reusable and exchangeable modules.
Well, this method is nothing new, did you ever saw the inner life of an old television, or a HIFI system, or a computer, or - of course - a modular synthesizer system? All are consisting of smaller or larger units, which interact over dedicated interfaces. This way of thinking, which simplifies the understanding of complex technical applications, is now also promoted by the MBHP.
Comments
You need to be logged in to add a comment.