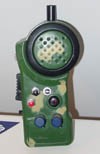 555 Light Theremin
Courtesy/Thanks to: fataltourist.com © 2003 Chris Prine
Description: From the site:
I first poked around the web looking for light sensitive theremins. I found this very simple light theremin and built it on an experminters board. It's not bad for so few parts (a total of 7), but the sound was kind of weak (sounded like a mosquito).

So I managed to slap together a circuit that uses a 555 to generate a square wave (now it's more like a beetle). Much nicer. It has pitch and volume control, and two push buttons: one momentarily turns off the sound (a "cutout" button), and the other is an octave drop button.


Comments
You need to be logged in to add a comment.