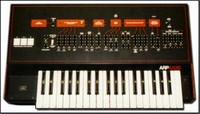 AXXE
Model 2300
Courtesy/Thanks to: Arp
Description: From the manual:

The ARP Axxe is a completely variable synthesizer, ideal for live performance operation. The Axxe provides many of the features of more expensive synthesizers and can serve as the nucleus of a larger synthesizer system by interfacing with other ARP instruments.


The Axxe Contains one VCO, one VCF, one VCA, a LFO, Keyboard Control Voltage Memory/Sample and Hold, Noise Genereato, and ADSR Envelope Generator.
Comments
You need to be logged in to add a comment.