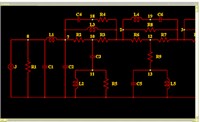 WinLAP
WinLAP circuit design schematic capture and simulation software
Courtesy/Thanks to: Schematica and http://www.ecs.dtu.dk/winlap.htm
Description: WinLAP allows the schematic capture and simulation of circuits containing resistors, capacitors, inductors, op amps and controlled sources.


By placing a voltmeter or ammeter component, one can monitor voltage (dB, real, imaginary), current, phase, group delay and pole-zero locations.


Additionally, output response to impulse, step or user-configurable "staircase" input can be viewed.


The program is no longer supported, and several bugs have been reported, although it is in general a robust, albeit somewhat awkward, application.


WinLAP has been superceded by the much more powerful shareware simulation program eSketch that you can find on Schematica's homepage.

Comments
You need to be logged in to add a comment.
Added 2014-07-25 09:29:04 by erik.lindberg@ieee.org
The website http://www.ecs.dtu.dk/ do not refer to ECS (European Circuit Society) anymore. Please send an e-mail to erik.lindberg@ieee.org winlap.htm software
Added 2007-12-05 16:28:28 by ErikLindbergDK
WINLAP The circuit analysis program WINLAP was developed by the late Lars Andersen. This version is distributed as freeware in memory of the author. Lars Andersen died of lung cancer on October 1'st, 1995, age 65. I spoke with Lars on September 26'th 1995 and promised him to distribute his program as freeware. Erik Lindberg [el@oersted.dtu.dk, +45 4525 3650, +45 4588 0117 (fax)] ref.: Lawrence P. Huelsman (edt.), PC Programs for Engineers, IEEE Circuits & Devices Magazine, Vol. 11, No. 3, May 1995, pg.4-6.
Added 2007-12-05 16:20:34 by ErikLindbergDK
http://www.ecs.dtu.dk/winlap.htm