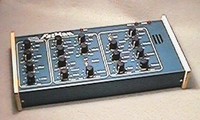 FatMan
Analog MIDI Synth
Courtesy/Thanks to: PAIA
Description: From the PAIA homepage:
The FatMan has all of the features that give analog it's big bottom and punch in a MIDI controlled package. The classic Voltage Controlled normalization is brought up to date with a Velocity CV not available on pre- MIDI synths. Pitch wheel modulation is supported and Pitch and Velocity CVs and gate signal are provided on the front panel for driving PAiA or other linear response synthesizer modules.
And all those knobs! They invite experimentation and invention in ways that a single control with functions buried under layers of obscure menus never can. Just a few hours with the FatMan will teach you more about the nature of sound than you might ever learn otherwise. It's as at home in the physics lab as on-stage.
Comments
You need to be logged in to add a comment.