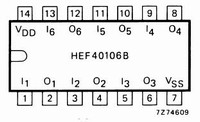 40106
Hex inverting Schmitt trigger
Other names for this product: CD40106, HEF40106,
Courtesy/Thanks to: Philips Semiconductor
Description: Each circuit of the HEF40106B functions as an inverter with Schmitt-trigger action. The Schmitt-trigger switches at different points for the positive and negative-going input signals. The difference between the positive-going voltage (VP) and the negative-going voltage (VN) is defined as hysteresis voltage (VH).

This device may be used for enhanced noise immunity or to "square up" slowly changing waveforms.
Comments
You need to be logged in to add a comment.