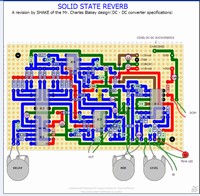 Solid State Reverb Unit
ETI Reverb box
Courtesy/Thanks to: ETI / Elektor / Charles Blakey
Description: "Where have all the spring lines gone? Gone to lesser projects in other magazines, that's where. Meanwhile we present this cheap, simple, but high quality unit using solid state technology. Design by Charles Blakey
Comments
You need to be logged in to add a comment.
Added 6/26/2009 10:57:34 PM by fred
hello electrocard i finish to build this reverb WESTERDAY but unfortunately she is not functional GRRRRRRRR as you said i find somme difference beetwin the pcb and shematic i think that the shematic is correct in a feew days i will try to modify the pcb we will see?????