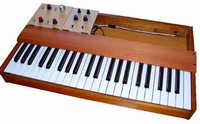 PIC Synth
PIC based analog synth plans
Courtesy/Thanks to: Kevin (picsynth@yahoo.com)
Description: A real analog synthesizer to build. The two oscillators can be detuned for that classic synth sound.
DCO, VCF, Envelope, VCA, sawtooth, triangle,pulse.

http://picsynth.000space.com


Dual oscillator mono synth
Really easy to build using just 1 custom programmed PIC chip, 4 ICs and single 12v supply
All circuits built on veroboard - no printed circuit board making skills needed
PIC based dual oscillator and digital keyboard scan
Analog VCF/VCA/Envelope
Waveforms : sawtooth, square (with pulse width adjust), triangle
Fully adjustable detune

Arpeggiator and Portamento

The PIC chip is available from above site for $17 US.


Comments
You need to be logged in to add a comment.
You need to be logged in to edit and add files and urls etc.
Popular tags for this:

You must be logged in to add tags.
You need to be logged in to administer your inventory

No one is selling this product at this time.
backpanel.jpg
Back of oscillator panel showing waveshape circuit. The dual waveshape circuit divides the PIC squar
filtamp.jpg
Filter/Amplifier Module :
Attack, decay, filter cutoff frequency, master volume, filter voltage
oscpanel.jpg
Oscillator Module :
Oscillator 1, range H/M/L, pulse width, waveform (ramp,square,triangle), tu
picboard.jpg
PIC board, showing 18 pin PIC microcontroller and keyboard decoder.The PIC produces three outputs: t
circuit_description.txt
Descriptions to accompany the photos
detunesaw.wav
Detuned sawtooth, hear the detune
egypt.wav
Two thin pulses. 1 Oscillator changes to M position near end
house.wav
Made this up. Top key priority makes for eady playing
oxygene.wav
Hey I never said I could play
filter.wav
Detune + filter resonance high
techinfo.txt
Technical Information on how the PICsynth chip works
lalala.wav
la la la
electguitar.wav
Electric Guitar
midsomer.wav
Midsomer Murders
osc1andosc2.wav
Playing with Osc1 and Osc2
oscmodfilter.wav
Oscillator Mod Filter. Done with 1 more diode and resistor.
whole.jpg
PICTURE OF WHOLE CIRCUIT
block.jpg
Block Diagram
block.htm
Block Diagram text
variation1.wma
Variations around detune beats
spooky.wma
New vibrato in PICSYNTH v2 chip
techinfov2.txt
Technical info for V2 chip
picsynthschematicv2.jpg
Latest PICSYNTH schematic CORRECTED
improv1.wma
Longer demo of the sound of the PICsynth.
downbeat.mp3
V3 Arpeggiator demo
rock.mp3
V3 Arpeggiator demo
train.mp3
V3 Arpeggiator demo
updown.mp3
V3 Arpeggiator demo
picsynth_v3_chip.pdf
PICsynth V3 chip information
glide.wma
Example of portamento/glide
fat.wma
Fat sound of new waveshaper, see BLOG on picsynth website
picsynthv3.jpg
Latest schematic - V3
picsynthvcfvca.jpg
Latest Veroboard layout for VCF VCA
step01vca.jpg
VCF VCA step1
step02vca.jpg
VCF VCA Step 2
step03vca.jpg
VCF VCA Step 3
step04vca.jpg
VCF VCA Step 4
step05vca.jpg
VCF VCA Step 5
step06vca.jpg
VCF VCA Step 6
step07vca.jpg
VCF VCA Step 7
step08vca.jpg
VCF VCA Step 8
step09vca.jpg
VCF VCA Step 9
step10vca.jpg
VCF VCA Step 10
step11vca.jpg
VCF VCA Step 11
step12vca.jpg
VCF VCA Step 12
pulsewidthmod.mp3
Oscillator 3 Pulse Width Modulation
saw256stepandpwm.jpg
Circuit to produce 256 step saw and PWM from square wave. Used as Oscillator 3.
strings.wma
Strings. OSC1=Pulse,OSC2=Triangle,OSC3=PWM
picsynthwaveshaper.jpg
Veroboard layout for the waveshaper
synthacon.mp3
Synthacon filter sound
scales.mp3
Modded Korg Monotron sample
space.mp3
Modded Korg Monotron sample
1octave.mp3
Modded monotron improvisation
medieval2voice.mp3
Cello and flute sound
10ufcap.mp3
Moving harmonics by adding 1 capacitor
picsynth2.jpg
Build a PIC based synth
picsynth.pdf
Schematics and connection diagram for the PIC-synth